Chomu Palace Hotel, Jaipur is a historic monument designed according to the Indian Vastushastra philosophy. The hotel revives the memories with an old world charm, vintage essence and traditional Rajasthani decor. Its beautiful courtyards, gardens, carved arches and colourful ceilings are simply breathtaking. This place offers guests a memorable stay with a touch of royalty.
Location:
The hotel is located at Chomu District, Jaipur. Guests can spend their leisure time exploring nearby places of interest including Lord Shyam Temple (Approx 2km) and Tejaji Ka Mandir (Approx 3km). Some of the distant places that can also be explored are Jal Mahal, Hawa Mahal and Jantar Mantar.
Distances form Jaipur International Airport: Approx. 45km
Distances from Jaipur Railway Station: Approx. 31km
Chomu Palace is a grand heritage hotel at 33 km from Jaipur at Chomu which is a small Rajasthani village steeped in heritage on the Sikar Highway (NH-11) at about 270 km from Delhi.

Chomu Palace, a reflection of the Royal Palaces of India, is a 300 year old elegant fortified palace hotel and one of the places to visit in Rajasthan. It revives the gracious lifestyles of the princes of Rajasthan and the heritage of India. It is an authentic and historic palace that discreetly blends with the modern amenities and facilities. This historic monument is designed according to the Indian Vastushastra philosophy.

Enclosed in 6 acres, Chomu Palace has a 5 meters thick fort wall and is surrounded by a deep moat. The entry to the palace is through a series of gates namely Kiladaro-ka-Darwaza, Shiri Deodi and Zenana Deodi opening into varous small and large courtyards.
Accommodation-Chomu Palace Jaipur offers 58 well appointed suites. The palace offers an unmatchable quiet elegant and regal ambiance the traditional luxury. A night in an aristocratic ambiance with royal antique furniture, marble bathrooms, luxurious toiletries, makes a moment of truth happen.
Contact Seema 0-9891458220/ Anand 0-9811193634/ (10 AM-8PM) EMAIL us for bookings and packages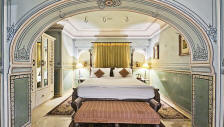 Historic Suite
Palace Suite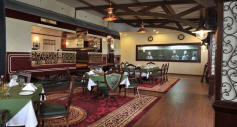 Restaurant
Contact Anand 0-9811193634/ Seema 0-9891458220
(10 AM-8PM)
EMAIL
us for bookings and packages

Stay Package Rooms Rs 7000/- Per couple per night with breakfast (taxes extra)