wildlife resorts around delhi


SARISKA
Nestled among the Aravalis, Sariska is the closest place from Delhi where one can hope to see a Tiger in it's natural surroundings. Once the hunting grounds of the Maharajas Sariska was made into a forest reserve in 1955 and declared a National park in 1982. Sariska Palace was built in the 19th century. After relocation of Tigers from Ranthambhore, there are close to 11 Tigers in Sariska and sightings are increasing day by day.
General Info
Weather :
Sariska is cool in winter and hot in summer. Nights are much cooler then the day.
Best Season :
October to February. Sightings though are higher in May-June if you could bear the heat.
How to reach
Distance :
180km (4 hrs).
Road
One can easily reach Sariska from Delhi in around 4 hrs via Daruhera, Tijara and Alwar
Train
The nearest rail head is at Alwar.
Tiger sightings are in the jungle are on the upswing now with increasing Tiger numbers and the undulating terrain,the dryness of the jungle in the Summers also make sightings better. Also look for animals like chital, hyena, neel gai, wild boar, hyena and leopard, Sambar, jackals and langurs.
The forest also has a rich bird life specially around various waterholes and the lakes in the area.
Forts and temples
The forest is dotted with old forts and temples, most of them now in ruins except the Sariska Palace situated just outside the forest gate and now converted into a hotel. Inside the century there is a temple dedicated to Hanuman at Pandupol and The huge fort of Kankanwadi.
Jungle Safari in Jeeps or canters, available morning and evening till 30th June. Around Sariska

Lake Siliserh

is about 30 km from Sariska near Alwar and a good picnic visit in the evening with boating.

Bhangarh

is an interesting place of old palace and fort about 50k from Sariska and supposed to be the most haunted place of India.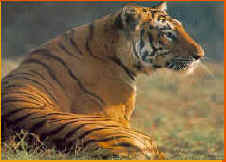 Sariska Palace
Built in the 19th century by Maharaja Jai Singh of Alwar this imposing palace served as a hunting lodge for the maharajas for the years to come. It has now been converted into a heritage hotel with all the modern amenities like swimming pool, lawn tennis,table tennis,huge lawns to play cricket, football etc and realxrelax . Based in a total of 100 acres it's facade and lush green lawns even in the middle of Rajasthan are a treat to watch.
Recently redone rooms (May 2015) of the Queens and the suites in the main wing along with rooms in the Lords corner are quiet good and even the services have improved after reopening of the Palace.
The huge area and proximity to the jungle along with 2 conference halls make it an ideal place for family stay, group stay for conferences and for wild life enthusiasts.
Jungle around Sariska Palace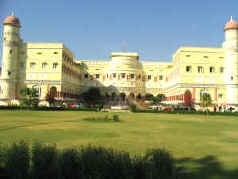 SARISKA PALACE
Rooms at Sariska Palace
Contact Anand 0-9811193634/ Seema 0-9891458220
(10 AM-8PM)
EMAIL
us for bookings and packages

More Pictures of Sariska Palace

More Info On Sariska Palace
Package-
Rs.9500/-
per night for a couple & 2 children below 8 years with breakfast,lunch, dinner (taxes extra)
Other Resorts at Sariska