Mirvana Nature Resort is located in Sodakore, which happens to be 55 Km ahead of Pokhran and 55 Km before Jaisalmer, on the Jodhpur-Jaisalmer Highway. The resort is situated about 2 Km from the highway amidst the serene environment of R.G. Farms. A unconventional place in the middle of the harsh desert yet so green that it gives you a vision of an oasis. The stay is in cottages and deluxe tents and every effort is made by the resort to make your stay as comfortable as possible. The surrounding are green and quiet and the evening are just wonderful and romantic with dinner under the star lit sky with a Rajasthani cultural programme to boot. One can also visit the sand dunes on jeeps and camels and the dunes are not very big and very clean and not crowded compared to other dunes at Jaisalmer. Mirvana should be definite part of your Rajasthan itinerary. The resort is eco friendly in nature and serves organic food being cultivated at a farm in the same complex.
Jaisalmer hotel for families, couples and single travelers who seek a carefree nature retreat, amidst the sun kissed Thar Desert. The Resort lies nestled in a verdant oasis, 55 kms away from Jaisalmer. Our goal is that you leave feeling better than when you arrived. So escape the hustle bustle of the cities and stay with us to rejuvenate your mind, body and soul.

A Resort with its own organic farm and orchard, it is abundant with fruit, vegetables and flavorful herbs. The dairy and poultry products are farm fresh.

All our tents have been crafted by hand using natural and local materials. A lot of the work at Mirvana Nature Resort and Camp is done by the rural people of Sodakore which is our contribution to rural and responsible tourism. This also helps provide employment to the village folk.

Our enviable location allows guests to make the most of their visit to Jaisalmer. While staying with us, one can indulge in a number of activities like bird watching, interacting with the vibrant village folk, camel treks, village walks, dinner on the sand dunes, taking a tractor ride and even plucking your own fruits and vegetables!
Contact Anand 0-9811193634/ Seema 0-9891458220(10 AM-8PM) EMAIL us for bookings and packages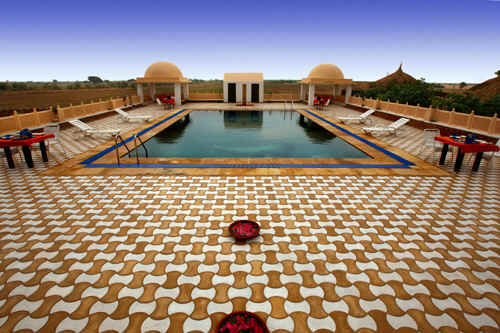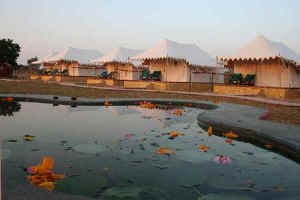 .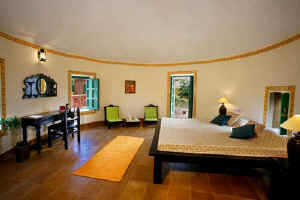 Contact Anand 0-9811193634/ Seema 0-9891458220
(10 AM-8PM)
EMAIL
us for bookings and packages

Stay Package Deluxe Rooms Rs /- per couple per night with breakfast (taxes extra)