Chail near Shimla Also see Jungle Retreat Chail Chail Resorts
Chail is a Maharaja's revenge for not being allowed to enter Shimla over his romantic escapades at

HIMACHAL
Scandal Point. Maharaja of Patiala developed this beautiful countryside and also built the majestic Chail Palace. The place still retains it's old charm without addition of much concrete, as in Shimla. Chail is 45 km from Shimla though one can go directly to Chail from Delhi by taking a turn at Kandaghat on Kalka-Shimla highway. There is Chail wildlife Sanctuary to see, Chail cricket ground, the highest cricket ground in the world, and a small stream flowing nearby, good for day picnics at the side of the rivulet. You can also go for long walks along the dense pine forest. In the day you may have a few interruptions in your peace process cos of travellers from Shimla, but by the evening they are all gone and you have the place all to yourselves. So, I would recommend Chail to those travellers who are looking for some quiet and beautiful place with accommodation varying from budget to deluxe accommodation at Chail. Chail is all that, which Shimla is not. So if you like the hustle bustle stay at Shimla, if you are more happy away from the crowds, opt for Chail Resorts, or you can combine Chail stay with Shimla.
Resorts/Hotels in Chail/Chail Accommodation/Where to stay in Chail
Rashi Resorts Chail- Rooms & Cottages
Situated 2 km from Chail Bazaar in the midst of nowhere, the resort gives an option of rooms as well as two bedroom cottages with drawing/dinning room and a maids' room. Each room has an independent balcony along with Cable TV, telephone etc. There are indoor recreational facilities for children and personal parking available. The Rashi cottages are independent with two bedrooms with attached bathrooms and a common living room with sitting area. The cottages are very comfortable for families as the living room can be used as sitting area for parties, gup-shup etc. and also extra beds can be laid there if required in the night. There also are some one bed room cottages at Chail Resort Rashi.
Contact Seema 0-9891458220/ Anand 0-9811193634/ (10 AM-8PM) EMAIL us for bookings and packages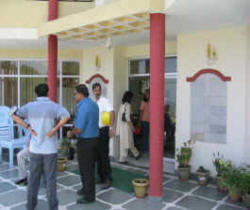 Lobby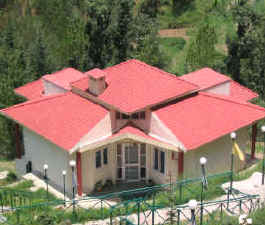 Resort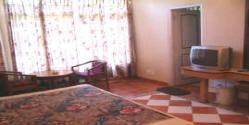 Room
Contact Anand 0-9811193634/ Seema 0-9891458220
(10 AM-8PM)
EMAIL
us for bookings and packages

Stay Package Rooms Rs 2500/- per person night with breakfast (taxes extra)

Get special adventure package for individuals and groups