Nainital

About The Nainital Cottage

The Hermitage, Kailash, is a unique resort, that offers you a true home comfort and complete privacy. The glittering face of Nainital is right across the cottage. Indulge in naturo therapies and leisure sport. Wild life spotting Trekking, Boating & Bird Watching. Ideal hill villa for your all times vacations and holidays around Nainital

Accessibility :

Accommodation :

The Cottage comprises a villa having 3 bedrooms with western style attached bathrooms with balconies, terrace and patch of lawns at different levels. along with this, a coffee room, a large split level drawing/ dining with fire place.
Hermitage Kailash, Nainital has a large kitchen with all modern gadgets, so that the guests can do their own cooking. Resort also can provide chef at a nominal cost. The cottage also has large open lawns for Outdoor Games.
Activities at Nainital Cottage:
Wild life spotting.
Bird watching
Ideal ambience for health & naturo therapies e.g. yoga, meditation, trekking and destressing.
Informal Conference
NAINITAL COTTAGES
Nainital is a lovely hill station and one wishes one can have one's own cottage in this beautiful mountainscape. Well, you know it's not possible for every body to own a house because of many reasons. Thankfully there are people who do own these cottages and are ready to give them on hire too. The choices are
Ramgarh
Situated in Talla Ramgarh, near Nainital,it is about 340 km from Delhi and 25 km from Nainital. This is a 2 bedroom cottage in very calm and green surroundings with a small 5 shop market nearby(1km) for daily needs goods. The cottage has a nice lawn and garden with a covered canopy for sitting in the open. It has a separate servant quarter. Maximum no of adults allowed -5. The climate is pleasant in summers with mornings and evenings being nippy and cold in winter. The owner likes to rent out for a minimum of 15 days. (Price on request)
Contact Anand 0-9811193634/ Seema 0-9891458220(10 AM-8PM) EMAIL us for bookings and packages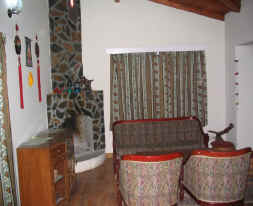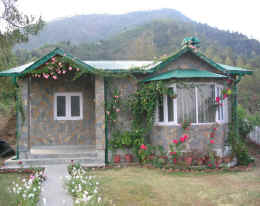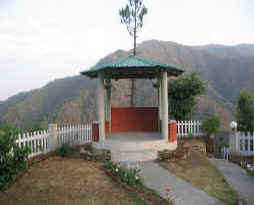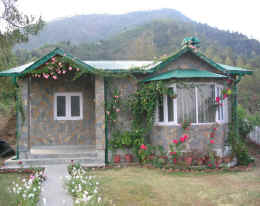 Nighlaat Village Resort
Nighlaat is a small village near Bhowali, 25 km Nainital (325 km from Delhi) with a beautiful surrounding green jungle and a lovely stream flowing nearby. An old couple,young at heart have converted and old farmer's house into a lovely cottage with imaginative decorations using all sort of simple things. The cottage also has the surrounding 5 acres of land with a small stream flowing close to it. The green lawns and the rocks close to the stream serve as a perfect picnic spot. There ayre six rooms with attached bathrooms and toilets, for recreation there is a DTH television, a library, trekking routes and fishing in the stream. The lady of the house cooks fantastic meals for the guests and the terrace serves as a fine dining cum party area. The cottage can be hired even for a day for a couple or families.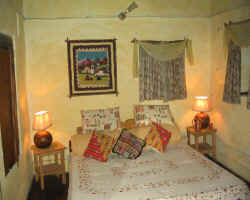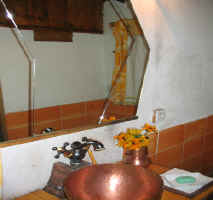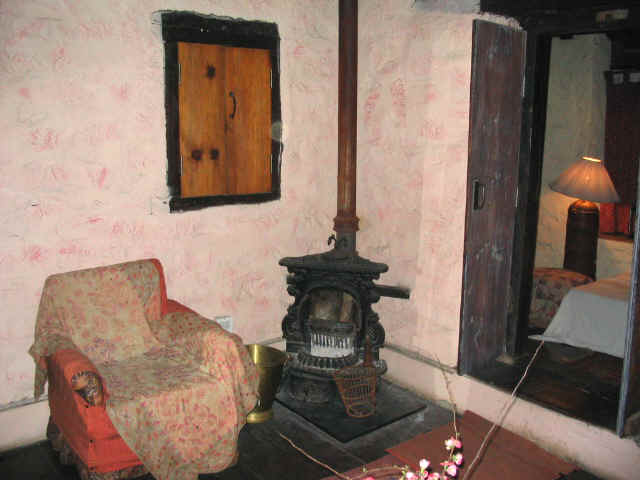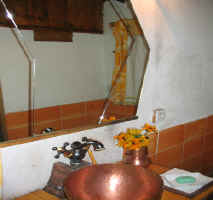 Contact Anand 0-9811193634/ Seema 0-9891458220
(10 AM-8PM)
EMAIL
us for bookings and packages

Stay Package Rooms Rs. /- per couple per night with breakfast & Dinner (taxes extra)