rafting at rishikesh

Shivpuri Rishikesh Rafting

Shivpuri Rafing Camps
Rishikesh
Situated at Shivpuri, the campsite overlooks the River Ganges and makes for a comfortable stay and rafting at Shivpuri Rishikesh. The Shivpuri camps are manged by an experienced team, in the camping and rafting business for the last 15 years. Though away from the river Ganga due to the NGT restrictions, the camp has a lovely location with beautiful views of the river and add on facilities which were not possible at the river side camps.
Facilities
Large tents with provision of 3 beds.
Electricity in the tents with a CFL light, a pedestal fan and a charging point for mobile.
Sitout with chair and table
Large Dining Tent
Western toilets with running water
Bathrooms with shower and hot water
Large green lawns with facilities to play cricket, volleyball, badminton
Swimming Pool with filtration plant( to be added shortly)
Sumptuous and hygienic food
Facility of arranging Rafting
Transport facilities can be arranged with prior information

Camping and Rafting Weekend GetawayTrip to Shivpuri Camps at Rishikesh on Good Friday Weekend 14-16th April 2017
Join as a single or any group size from Delhi to Delhi all inclusive to trip to enjoy stay and rafting and other fun at Shipuri Rishikesh Rafitng Fun
Itinerary

Day 01: Leave from Delhi at 6 AM from Dhaula Kuan ( or any single center point in Delhi)
Breakfast on the Way, Travel by 27 seater A/c Deluxe bus or smaller A/c vehicle (shared)
Raqch the Camp by 2 PM ( subject to road traffic)
Camp Allocation and Instructions
Lunch
Time for relaxation,Swimming Pool session
5:30 PM Tea with pakoras
6 PM Trek to the river 1.5 hours
8-10 pm Music session with snacks veg/non veg
10-11 PM PM Dinner

Day 2
Bfast. After bfast set out on rafts for Shivpuri to rishikesh 16 km . Explore the beautiful surroundings and attend a briefing on rafting techniques.
The group would then raft down from camp to the rishikesh through exciting rapids like Return to sender, Roller Coaster, Golf Course, Club house,T off,
Initiation, Double trouble. One would also get a chance to try their hand at the exciting sport of Cliff Jumping and Body Surfing. Complete the stretch at Rishikesh,
after this adventures trip back to camp.
Lunch
Post Lucnh play beach activities i.e. Beach volleyball, cricket & swimming pool
Evening tea with pakoras
8-10 pm Music session with snacks veg/non veg
10-11 PM PM Dinner

Day 03 :
Bed Tea early morning,
Breakfast
9 am Leave for Delhi-
lunch on the way back ( veg) Reach Delhi By Evening to the Starting point, End of trip
Inclusions and Cost of the Rishikesh Good Friday Trip
Stay on triple sharing, 3 Bfast, 3 Lunch, 2 Dinners, 2 Evening Tea, 2 Evening Snacks with music, Rafting round Shivpuri to Rishikesh 15 Km, Transport Delhi Shivpuri Delhi in A/c Vehicle, One trekking trip, Use of swimming Pool, cricket,volleyball,badminton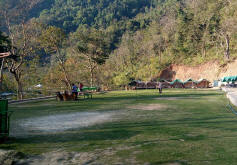 Shivpuri Camps Lawns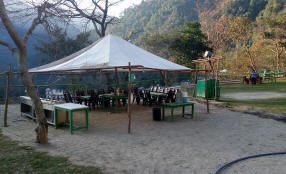 Shivpuri Rafing Dining
Contact Anand 0-9811193634/ Seema 0-9891458220
(10 AM-8PM)
EMAIL
us for bookings and packages

Package on triple sharing Rs 5500/- per person night with above inclusions (taxes extra)

Supplement on double shairng Rs 500/-