heritage resorts

Rajniwas Dhaulpur A Heritage Resort

Rajniwas Dhaulpur
A lovely heritage palace seeped in luxury has been recently opened up for Domestic tourists to give Delhites another Weekend getway, specially so in the winter months. This is the Raj Niwas Palace at Dholpur. Being just 50k on Agra Gwalior highway, one can travel via the express way and reach in 3-4 hours from Delhi depending on the place you start from and the time you start from Delhi. Dholpur Palace is one of the most beautiful and well preserved heritage hotels in Rajasthan.more lustrous than it ever was, having been refurbished extravagantly by the owner. Dholpur was a protectorate of the British East India Company from 1779 on wards. In 1949, it merged with the young Indian nation and in 1956 the princely state ceased to exist. Apparently Dholpur Palace was built to welcome HRH Albert Edward, when he visited in 1876. Set in 13 acres of garden, the palace grounds are full of peacock and bird life that nip over from the National Chambal Sanctuary nearby.
Rooms- Enjoy the unique experience in royal living at The Raj Niwas Palace Dholpur. Apart from the Heritage rooms we have

20 Pool Villa Rooms. Each room having a courtyard living room area, bed room and a luxurious bathroom. The courtyard houses a heated pool for personal use.
10 Courtyard Rooms- These are new rooms and have everything except the pool and slightly smaller than pool villa rooms. Guests can use the common swimming pool.
Things to do around Dholpur
National Chambal Sanctuary-Explore the National Chambal Sanctuary which is a 400 km protected stretch of the river. A safari takes you on a four-hour ride down the River Chambal, drifting past gharials basking on the sandbanks, marsh crocodiles and turtles sunning themselves on the rocks and a wealth of birds fluttering around. The place is just 4 km away. In fact, so rich is the bird-life during the winter months that it warrants an exclusive birding holiday in itself.
THE RIVER SAFARI
The calm and gentle waters of the Chambal River are best explored on boats and the River Safari provides spectacular opportunities to view the wildlife. The Chambal Safari boatmen are exceptionally skilled at cutting the boat engines, and manoeuvring as close to the birds and animals as possible without disturbing them. Trained naturalists accompany visitors and provide expert information on the Chambal wildlife. The River Safari is a most relaxing, enjoyable and special experience.
The Machkund temple - It is a pilgrim stronghold in Dholpur, and this temple is located at a distance of four kilometres from the main city. This is a very ancient and sacred place, and it is an important pilgrim destination for all Hindus.
Chambal Ravines- Hire a jeep to explore the ravines of Chambal once infested with the 'Chambal Dakus'. The Chambal Ravines (altitude 200-500m) are the product of centuries of soil erosion by flood and rain waters. They form an incredible maze of intertwining mud cliffs, with tropical dry scrub forest vegetation, that provide shelter for numerous birds, mammals and reptiles.
One can also visit Van Vihar Wildlife sanctuary and Talab Shahi water body nearby.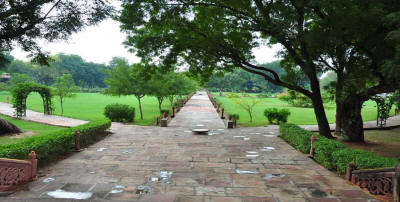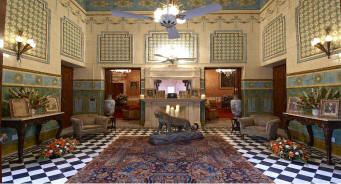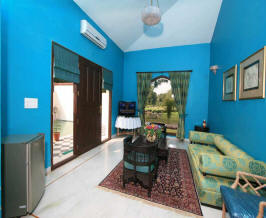 Contact Anand 0-9811193634/ Seema 0-9891458220
(10 AM-8PM)
EMAIL
us for bookings and packages

Stay Package Executive Rooms Rs 8000/- per night with breakfast (taxes extra)

Get special rates for individuals and group and group bookings. Call us now at Around Delhi.