Dalhousie


About Mount View Dalhousie

Hotel Mount View, Set amidst this scenic splendour near the city centres, Hotel Mount View gives you all the comforts you expect in a deluxe Hotel our guest rooms, housed in Victorian style building are tastefully furnished and equipped with elegant bath, shower, telephone. CCTV & Stereo channel music. Hotel Mount View offers the best of conference and Banquet facilities in this part of Himachal.

Accommodation

The 33 rooms of the hotel are housed in a Victorian style building and are elegantly and tastefully furnished. The rooms are equipped with the modern requisites like STD/ISD facility, mini bars, multi channel satellite TV, modern wash rooms, hot/cold water, 24 hour room service, housekeeping and laundry services.
Restaurant

The "Kettle House" Restaurant is one of the finest Restaurants in the Town. Studded with Kettles from all over the World It is Multi Cuisine restaurant and a Hot Favorite of the Tourists of and around the Hotel. It serves Mughlai, Continental, Chinese, South Indian Food and also Special Gujrati Thalis.
Facilities

Four Star Property "Hotel Mount View & Spa" is One of the Finest Hotels and a Premier resort in Dalhousie, offers ­e best exteriors and great interiors. Our Terraces, Landscaped gardens, water bodies, public areas, lobby, Th­e Kettle House Restaurant and Cedar Restaurant, Gabfest Conferences, Anandam Spa, Bodywise Fitness Studio, Freebees Games zone, Kids Junction, Jumanji Children Park, Knick-Knack Store, Jingles Cafe, Gazebo open air discotheque, local folk singer, evenings Tambola , games, covered and safe parking, drivers room, free Wi-Fi etc. All take The client to a wonderful experience. Suites are done up in individual styles and Have ­e best of in room facilities, which face either ­the majestic views, lush green Lawns, flowerbeds Or water bodies and our terraces overlook a 180 degree view Of the snow covered pir panjal Ranges.
Conference and Banquet Facilities
The "Gabfest" Conference & Banquet is said to be the best in this part of Himachal, which can accommodate 125 participants in Theater style and over 300 people for Buffet Banquet. It is well decorated with almost all facilities required for Conference & Banquet.
Contact Anand 0-9811193634/ Seema 0-9891458220
(10 AM-8PM)
EMAIL
us for bookings and packages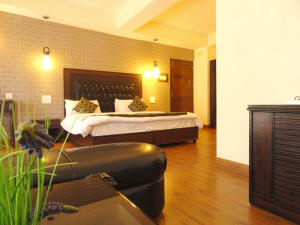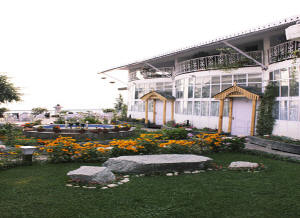 Contact Anand 0-9811193634/ Seema 0-9891458220
(10 AM-8PM)
EMAIL
us for bookings and packages

Stay Package Rooms Rs. /- per Couple Per night