punjab resorts

Gaj Retreat Resorts & Spa Malsowal

GAJ RETREAT
Gaj Retreat at Mansowal Punjab in Hoshiarpur a nature friendly eco resort spread over 8 acres of forest and greens. Its unique location in quiet and green surroundings close to a dry river bed with lovely rooms, chateaus and cottage accommodations makes Gaj one of its own kind as a weekend destination close to Chandigarh, Ludhiana Jallandhar and a two night resort option from Delhi.
Gaj offers a multi cuisine restaurant, a bar, Library, a spa and lots of adventure activities in house and close by.
The spa is one of the USP of the place giving the guests a wonderful and relaxing massage in the natural and green environs.
Accommodation includes Deluxe rooms, Tent Cottages, Chateaus and Suites with personal pool villas.
Facilities
Swimming Pools, Bar, Restaurant Gym Spa, Pool Villas
Activities
Inhouse Cycling, Paint ball, All terrain vehicles, Bird watching, cricket, trekking, table tennis, badminton, pool table
Around Gaj Activities Off roading, Dry river bed trek, Lunch on the river bed, night safari, Horse ride and safari, nature and village walks.
Excursions
Anandpur Sahib, just 20 km away, is one of the most sacred places in Sikhism, last two Sikh Gurus lived, Guru Teg Bahadur Ji and Guru Gobind Singh Ji stayed here and this is the place where Guru Gobind Singh Ji founded the Khalsa Panth in 1699. The city is home to Kesgarh Sahib Gurdwara, one of the five Takhts in Sikhism. Located close by is the 'Virasate-e Khalsa' the museum having the highest foot fall in the country tells one about the history of Punjab and Sikhism by hand crafted artefacts and latest technology. Don't miss the biggest hand painted mural in the World done with a 360deg view, Ik Onkar created by fibre optic lights and the second phase with life like mannequins of Maharaja Ranjeet Singh and many other. Man made pools and green manicured lawns are very attractive and one can easily spend 2-3 hours at the place.
Bhakra Nangal Drove through the lake of Bhakra nangal dam
Naina Devi Temple around 70 km away is one of the 51 Shakti Peeths in Himachal and visited by many pilgrims.
Gaj Rooms & Cottages
500 sq feet A/c Tent cottages/ Deluxe Rooms with TV Coffee maker with shower cubicles or open shower, bath tubs and sitouts.
650 sq feet Chateaus with living area, bed room, shower cubicle & bathtub, open sitout and plunge pool, TV, coffee maker
950 sq feet Suites with living room, bed room, shower cubicle and bath tubs, sit out and open air plunge pool.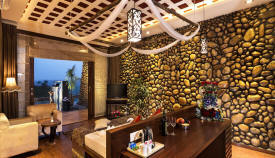 Rooms Gaj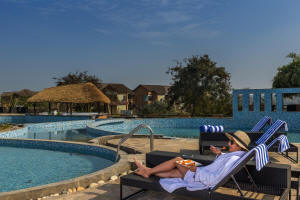 Pool Gaj Retreat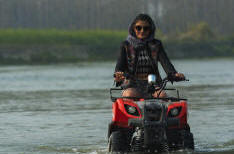 Gaj An Activity Heaven
Contact Anand 0-9811193634/ Seema 0-9891458220
(10 AM-8PM)
EMAIL
us for bookings and packages

Stay Package Rooms/Tents Rs 10,000/- per couple per night with breakfast, lunch, dinner and evening snacks (taxes extra)