deserts of rajasthan

Deluxe Camps and Camel Safari at Sam Jaisalmer

Stay at one of the best luxury tents at Sam, Thar Desert- Jaisalmer.
Tents are well furnished with modern amenities and traditional interiors. The tents are exclusively designed to provide visitors experience of lifetime. Experience the soul of this enchanting land on a camel safari's and Jeep safari's in Jaisalmer.

We are inviting in magic of the Great Thar Desert Sam (Jaisalmer) the Dry Paradise in Rajasthan.
We also provide village safari our guest request through jeep & camel in desert Jaisalmer and to feel local village lifestyle and atmosphere, an also seen Desert National Park to know about Desert wild life and clean dunes made by nature.
Location
Deluxe Desert Camp is Located at Sam , 45 Kms from Jaisalmer (known as sand dunes of Thar Desert). Sam Sand Dunes, 42 away km from Jaisalmer, is the most popular excursion to see the total sandy bush less desert. It has a truly glorious stretch of sweeping sand dunes. It is best to be here at sunrise or sunset, and many camel safaris spend a night at the dunes. The best way to see this and other sights around Jaisalmer is to take a came safari. The standard trip lasts for 4 days and three nights, and offers the opportunity to explore the area in authentic and leisurely fashion, with entertainment by folk performers, visits to villages, and chatter from colourful guides thrown in. However you can also day trip and go by car. Hordes of tourist arrive just before sun set. Camels can be hired easily and you may be able your favourite picture with a lone camel on a desert track and the setting sun in the backdrop. Despite the tourist throng the place has not lost it magic. The desert festival held sometimes in February each year is a big draw and it is full of fun, colour and laughter, cultural events and competitions.

Facilites
We provide you quality stay in Exclusive Swiss deluxe and Luxury luxury tents with attached bathroom with 24 hour running water and royal traditional hospitality & service.

*Travel Counter & Taxi Services
* Camel Safari
* Jeep Safari 4 wheel drive with night safari
* Exclusive Mobile Camp
* Gala Dinner
* Traditional Cultural Night (Music & Dance)
* Well Guided Safari Tour

Enjoy the evening hours on royal style sitting arrangement around the campfire while Rajasthani dinner is served and traditional musician (LANGAS) and dancer (KALBELIYAS) entertain you with Rajasthani fold music.

Activities

Traditional Cultural Night (Music & Dance)
Kalbeliya Dance
Kalbeliya is one of the sensuous dance forms of Rajasthan. It is performed by the Kalbeliyas, the snake charmers community. The dancers wear long, black skirt decorated with sliver ribbons. They spin in circles with great flexibility and the pace increases with the increase in beats

Evening Package Rs 950/- + taxes per person with Welcome Drink, Camel Ride, Evening tea with pakoras, Dinner and cultural programme.
Stay Package at Rs 5000/- + taxies per night with bf,dinner,camel ride and cultural programme in Deluxe Tent and Rs 6000/- +taxes in Luxury Tent
Night Safari Rs 1000/- Per person (min 6 persons)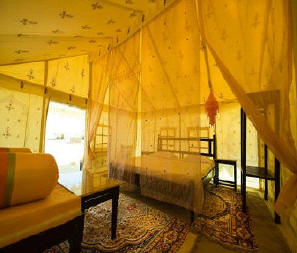 Desert Tents at Sam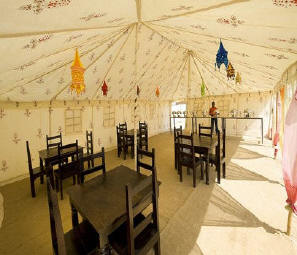 Sam Camps at Jaislamer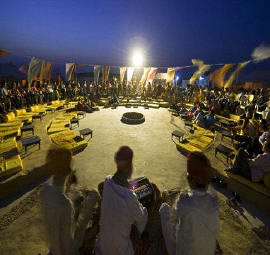 Cultural Programme Sam Jaisalmer
Contact Anand 0-9811193634/ Seema 0-9891458220
(10 AM-8PM)
EMAIL
us for bookings and packages