corbett resorts

CORBETT HIDEAWAY & CORBETT RIVERVIEW

Corbett Hideaway Corbett (previously Claridges Hideaway)
These beautifully done cottages at Corbett National Park previously managed by Claridges and the facilities are close to five star. The resort is ideally located by the banks of the river Kosi, giving lovely views of the river from some of the lake facing cottages. The resort is very green with a lot of large trees bring in a lot of shade and fresh air. All cottages have been recently renovated with a new look decor and furniture etc. The cottages are spacious and placed in batches giving privacy to the guests.
There is a swimming pool along with an air-conditioned restaurant cum bar, bar-be-cue along side the pool Spa facilities and a conference hall. My favourite is a cozy little lounge with a river view where one can go thru the morning papers, take your tea or just snooze around or even hold a small meeting. The resort also arranges for jungle safaris and have their own open jeeps for it.
Corbett Hideaway undoubtedly is the best place to stay in Corbett, luxury wise. It also serves mouthwatering delights with it's own bakery and various cuisines including Indian, Chinese, Kumaoni, Italian, Barbecue grills and all.
In the evening there is usually a Guitarist humming some English numbers or old Hindi songs by the bon fire. Or you can play a game of Tambola, even the children are kept involved with various games etc. One can also interact with a Naturalist or see a wild life movie or Corbett. In the morning the resort will book you for a jungle safari through their Wild life experts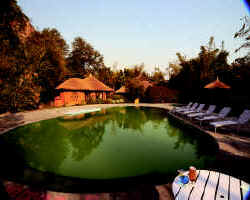 Swmming Pool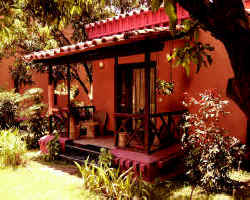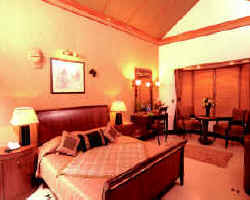 Room

Corbett Riverview
Corbett Riverview gives a combination of two and three bedroom cottages close to the river side.The cottages here are either two or three bedroom with a separate sitting area. Most cottages are two storey with a balcony on first floor and verandah on ground with a small garden. The resort has a swimming pool, a restaurant, a bar, a temple and lot of open spaces and gardens. One can stroll to the river front and enjoy the cool breeze on it's banks. An excellent value for money and very suitable for a family or a group of friends.
In the evening one can enjoy the Guitar evenings or the Wild Life movie. The resort also arranges for jeep and elephant safari.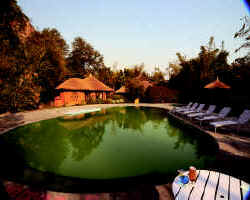 Swmming Pool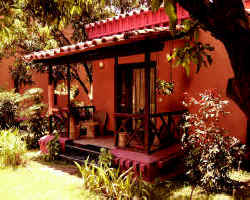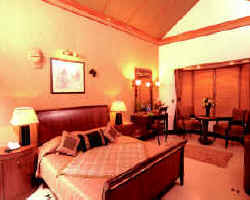 Room
Corbett Tref Hotel Corbett
Recently started this small boutique hotel has very well done rooms with excellent decor and good room size. Spread over an acre with well manicured lawns, a multi cuisine restaurant and a recreation room with a VCD player and indoor games. Corbett Tref provides Jungle safari facilities to it's clients and is well organised. Hotel is especially suitable for individual traveller and small groups. At present this is the only hotel having TV in all it's rooms.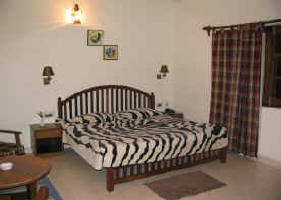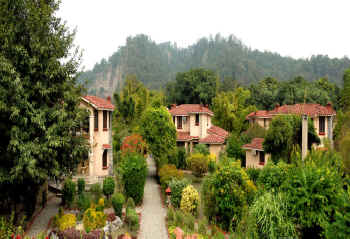 Solluna
Corbett
Situated on the banks of River Ramganga near Marchula it has beautifully designed cottages and some really eccentric color schemes which may really appeal to some while totally put off others. Any way, the location on riverside is really fabulous and there are large open green areas to partake. The cottages are quiet spacious and fully equipped with all modern facilities. It also has a swimming pool, recreation and a Conference hall. There is also a green bridge across the river which adds to the beauty of the place. This part of Ramganga is also known for fishing in the stream.