wildlife resorts around delhi


Set among the step farms near Chakrata and Dehradun, the Chakrata Camps are located at a height of 1900m overlooking the Viraatkhai Valley offering breathtaking views of snow-capped Himalayan peak on a clear day. Set on a step farm area the camp is in natural surroundings with dense forest area. The camp is a boon for the natural lovers with variety of flora and fauna. The Chakrat camp provides Deluxe tents with attached toilets with running water and has electricity too along with all facilities cottages. The dining area offers sumptuous and refreshing meals in a clean environment.
Located about 25 km from Chakrata the camp offers breathtaking views of snow-capped Himalayan peak on a clear day . The distance from Delhi is about 300k via Karnal, Yamuna nagar-Vikasnagar-Herbertpur or via Sahranpur-Herbertpur. Nearest railhead is Dehradun. Location among the forests with no habitation around gives one a wonderful sense of calmness and peace.
Adventure activities at and around the camp.
Trek to the lovely Tiger Fall (Total Distance 45 km, trek distance 4 km one side)
Rock Climbing, rapelling, nature walk, Valley Crossing, Bridge slithering.
Rafting on the Yamuna A 60 minute drive from the camp brings one to the upper stretches of the Yamuna, the favoured river for the true whitewater rafting enthusiast.
In the evening enjoy bonfire with some snacks and sound of silence or create your own music.
Mountain biking (geared bicycles) can be also enjoyed with prior arrangements.

Stay with an all activities package or take just a stay package in tents and cottages for relaxing in a wonderful natural green environment.

Stay At Chakrata can be combined with stay at Mussoorie or Deehradun also.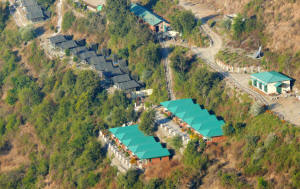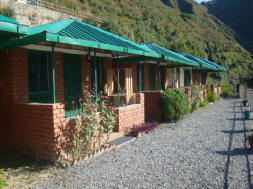 Chakrata Rooms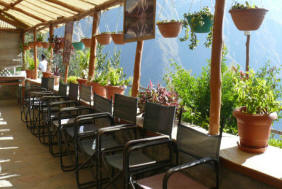 Chakrata Camps Restarurant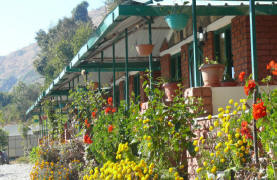 Chakrata Adventure Camps
Contact Anand 0-9811193634/ Seema 0-9891458220
(10 AM-8PM)
EMAIL
us for bookings and packages

Stay Package Deluxe Tents Rs 2500/- per person per night with aal meals, bonfire with evening snacks and one guided trek, 2n/3 day package at Rs 3400/- per person with all meal. Taxes extra. (you can pay for the activities required seperately).
Deluxe Room at Rs 3500/ per person per night and Rs 4300/- for 2n/3d, taxes extra.

Adventure Package starts at Rs 3500/- per person with meals and all activities for 1n/2d and Rs 5000/- for 2n/3d for the tent and Rs 6500/- per person fir 2n/3d.
Adventure package is bfast to bfast with bon fire in the eve with light snacks, 02 Stretch rafting, Duckie Rides, Rappelling, Jumaring, and Bridge Slithering. and a guided trek.