resorts around nainital


Amritsar in Punjab is one of the most ancient and fascinating cities of India. It is an important seat of Sikh history and culture. Amritsar has various historical and religious sites. The most famous of them all in the Golden Temple which was founded by the fourth Guru of Sikhs, Guru Ramdas and completed by his successor Guru Arjan Dev.
General Info
Altitude : 290m
Climate : Cool in winter, temperature can go down to 0 deg C. Hot in summer.
Clothing : Woolens in winter, light clothing in summer
How to reach
Distance : 470 km
Road : Drive all along the NH 1 to Amritsar via Sonipat, Karnal, Ambala, Ludhiana, Jalandhar and Beas. The road is excellent and mostly one way all the way. One can cover this distance in about 7-8 hrs. Lot of options to stop on the way.
Train : Daily trains available from Delhi, the most convenient being the Shatabadi. For more info check the Indian Railway website
here
.
Air : Amritsar is the only international airport of Punjab, daily flights are available from Delhi in
Air Deccan
and IA.
What to see
Golden Temple, also known as Harmandir Sahib and Darbar Saheb. Completed in 1604 by the fifth Sikh guru Sri Arjan Dev, Maharaja Ranjit Singh decorated the lower half of the temple with marble while the entire upper half was inlaid with copper covered over by gold plate. People from all religions come here to attain peace and tranquility in their lives. A dip in the sarovar is held as auspicious.
Durgiana Temple, Situated outside the Lohgarh Gate it is built after the design of the Golden Temple and attracts sages and scholars in Hindu scriptures from all over India.
Jallianwal Bagh, Martyrs' Memorial built in the shape of eternal flame of liberty is situated on the outskirts of Golden Temple. Here, about 1500 to 2000 persons who were attending a peaceful meeting during the freedom movement fell under the bullets of the British General Dyer, on April 13, 1919.
Wagah Border Situated about 30 km from Amritsar on the way to Lahore is the Wagah border Indian Army outpost. Every day in the evening a 'Beating the Retreat' ceremony is held by soldiers of both sides when the border gates are closed and the national flags are lowered down with great fervour and enthusiasm. A great collects daily to watch this ceremony and stands have been erected to watch it. Only private transport is available to reach Wagah.
Khalsa College is a masterpiece of architectural design and structure, this college constructed in the early 1900s is a beautiful sight specially when it is all lit up in the evening and can be visited on the way back from Wagah border.
Company Bagh and Ranjit Singh's Museum is also worth visiting.
What to buy
Amritsar is known for woolens like blankets, shawls, jackets etc. Also look for home made pappad, wari and desi ghee sweets.
Where to Stay

Contact Seema 0-9891458220/ Anand 0-9811193634/ (10 AM-8PM) EMAIL us for bookings and packages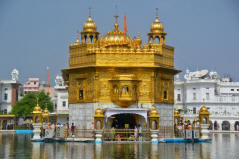 Golden Temple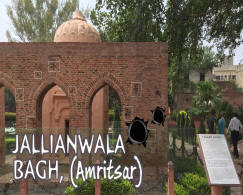 Jallianwal Bagh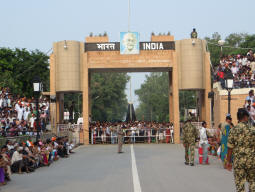 Wagah Border
Contact Anand 0-9811193634/ Seema 0-9891458220
(10 AM-8PM)
EMAIL
us for bookings and packages

Stay Package Rooms Rs 2500/- per night with breakfast (taxes extra)
Book complete Amritsar Package

Get special package for individuals and groups