Uttranchal

Mussoorie tourist attractions
Just a stone throw away from Doon, this hill station is also known as the Queen of Hills. A lot of commercialization and it's proximity to Delhi has really changed things, mostly for the worse but still it remains a favourite haunt of many capital dwellers, the ban on new construction has really helped in improving the greenery of Mussoorie in last few years.

UTTARANCHAL
General Info
Altitude : 1900m
Climate : Cold in winter, snow sometimes. Cool in summer.
Best time : April-June, Sep-November
How to reach
Distance 270km
Road Take the route to Dehradun as suggested in page Dehradun. From Doon it is just 30km away on winding and hilly road where you transcend from the temperate climate of planes to the cooler hills in no time at all. The drive is steep with lot of jalebi (hairpins will be an understatement) turns and watch out for lot of traffic coming from the oppposite side as the road is quite busy. On the way you can stop at Malsi deer park or at a temple almost midway, if you want to cool off or your car does. TIP Closer to Mussoorie you can choose to reach at two points of the city- Library (or Gandhi Chowk) or Picture Palace depending on your destination, if you have to search for a hotel both will do.
Train Closest railway head is Dehradun from where you can hire a taxi or take a bus to Mussoorie.
Air: Closest airport is Jolly Grant near Dehradun.
What to see
The Mall All hill stations probably have a mall and Mussoorie is no different. The mall extends from Library at one end to Clock tower at the other. The present day is full of shops of various varieties along with vendors selling their wares. You can also enjoy horse riding through the crowded road. TIP Private vehicles are allowed on the Mall after paying a small fee. You can also hire a pram for your child. The mall though is best enjoyed walking with an occasional halt to take in the view or buy some fruits or peanuts from the roadside vendor. There is also a playground for children offering many games and rides for the along with hordes of photographers to click you in various traditional Indian attires. From the Mall you can also ride the
Ropeway which takes you to Gun hill 400m away. The second highest peak of Mussoorie, can also be reached by foot by a 2km walk gives excellent views of the city, Doon valley and various mountain ranges like Bunder poonch, Gangotri, Srikanta etc.
Other Walks In Mussoorie (you may have Ruskin Bond, the famous author for company)
* Camel's Back Road - Start at Kulri Bazaar near Rink hall, and have a lovely view of the Himalayas all along this quiet stretch of 3 km.
* Lal Tibba, Th
* Walk to the Gun hill instead of taking the ropeway, take a fork road from Kacheheri on the Mall to reach in about 20 mins.
* Walk to the Municipal Garden, a beautiful landscaped green stretch with a mini lake and boating facilities is just 2 km from the Mall. Also reachable by car.
* Walk to Landour, the old city still living in turn of the century era starts from Clock tower. Includes the cantonment area and the Sister Bazaar further down the way.
Mussoorie Lake Situated on the Dehradoon-Mussoorie road this is a comparatively new addition with boating faciltiy and some water rides. It is also the site for Parasailing provided by a private company.
Kempty Falls 15 km away on the Yamunotri road it is a favourite destination for most tourists resulting in traffic snarlups specially in peak season. One has to walk for about half an hour down to the falls and another 45 min back up. Lots of shops selling souvenirs etc. all the way. Plasitic bags on the way are a big eye sore. The mela one finds at the bottom resembles a fish market. TIP If you want some solitude go up the falls from the road, but be careful on the moss laden steps. You can also catch a Cable car for to and fro journey to the bottom of the Falls.
Yamuna bridge Go along the road to Kempty for about 10 km to Yamuna pul the place where Yamuna cuts across the mountains to provide a very scenic picnic spot (could be better if developed well) along with angling opportunities (provided you get a license).
Where to stay
Chamba
Chamba is yet another of those destinations which still stand oblivious to most tourists and therefore unspoilt and fresh like a daisy for the lucky few who venture out seeking new places to explore and enjoy. Equidistant from Mussorie and and Rishikesh and cradled in the lap of Himalayas at 7000ft it provides one with a opportunity to unwind in total peace and pollution free environs. Providing excellent views of the Himalayas with proximity to Dhanolti, Mussorie, Rishikesh and Tehri Dam fits it into an ideal place to hang out for 2-3 days.
How to reach While coming from Mussorie it is 25 km beyand Dhanolti. While coming from Rishikesh it is 45 km via Narendra nagar (290 km from Delhi).
Where to Stay Classic Hill Top
Contact Anand 0-9811193634/ Seema 0-9891458220(10 AM-8PM) EMAIL us for bookings and packages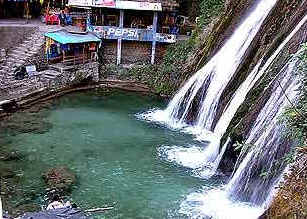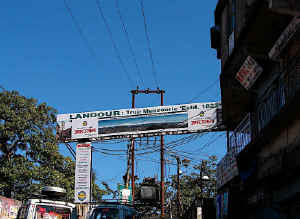 Contact Anand 0-9811193634/ Seema 0-9891458220
(10 AM-8PM)
EMAIL
us for bookings and packages

Stay Package Rooms Rs. /- per couple per night with breakfast & Dinner (taxes extra)